Reviews are one of the most important assets every business has. A good reputation means trusting customers coming for the first time and of course, coming back for more while they share their experience with others.
That said, and after several years of dealing with the good and the bad when it comes to online reputation on behalf of our clients, we have decided to take this to the highest level, and partnered with Birdeye to help our clients to improve their reviews and reputation, by engaging with their customers right after their services are rendered, asking for their feedback via email or text, and driving them to a "Leave your feedback" page when the experience is good, or to a "We're sorry about that" page to "attack" the issue before it hits Google, Yelp or any other reviews platform.
This new service, managed by DM Agency is ideal for those busy company or marketing managers that need to rely on someone with experience, knowledge and reputation.
This is all we can do for companies that need help building and improving their online reputation: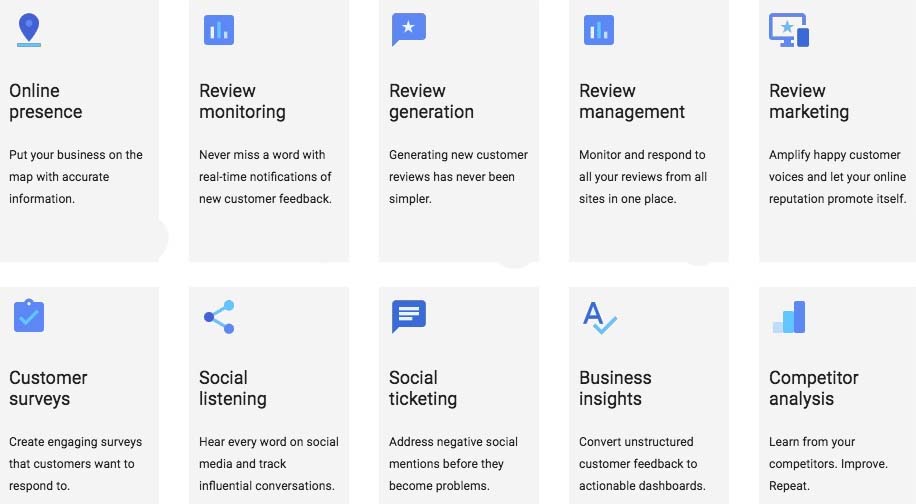 Industries:
Review monitoring and Marketing is ideal for any industry, including:
Healthcare
Dental
Automotive
Retail
Hospitality
Restaurants
Real estate
Financial services
Insurance
Legal
Home services
Personal services
And many more!
To find out more about how you can take advantage of this, please contact us for a complimentary company reputation analysis. You don't have any obligation to hire us, but you will know exactly where your brand or company is, and what are your options if you want to improve its reputation and get more real reviews from your customers.