The biggest football competition is coming.  Want to get the most out of it to boost your business? The joy of football moves people and makes them spend more; not in vain billions of dollars are spent in marketing. Nothing is better than going out with friends to watch a soccer match accompanied by good food and drinks. Companies like Coca Cola know it very well and if you pay attention, you will recognize the pattern in almost all of their commercials.
The upcoming world cup is celebrated in Russia. This country officialized the winter time, which means we will watch the matches at morning time between 4:00 a.m. to 2:00 pm. depending on your time zone. If you want to take advantage of it, here are some tips you may follow:
Prepare your TV set: place your TV in a space that ensures the maximum view angle and equip it with a good sound system. If you have a restaurant that serves typical food from certain country and such country participates in the World Cup, you can expect having your space at full capacity during the time of the match.
Prepare your World Cup related activities: activities that get your customers into taking part of the events you host like giving gift certificates to anyone who gets the score right or free drinks during the match.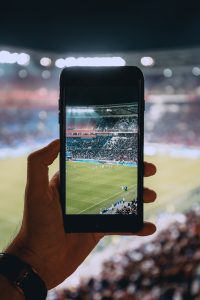 Prepare your social media strategy or contact your digital marketing agency: Preparing a good campaign requires a lot of preparation, even more considering that your campaign will be competing with thousands of others that also are tuning up with the World Cup to get the audience's attention. To avoid losing ground to your competition, it is necessary:
A creative campaign.

Choosing the right audience.

A creative campaign has an ideal phrase or image that may come to your mind at any moment. Don't ignore the ideas that come as a flash of inspiration. These are usually the best and the most effective ones. Get  help from your marketing agency/specialist to develop it and also to look for the right audience.